Welcome to Lyme Bay Medical & Dental Practice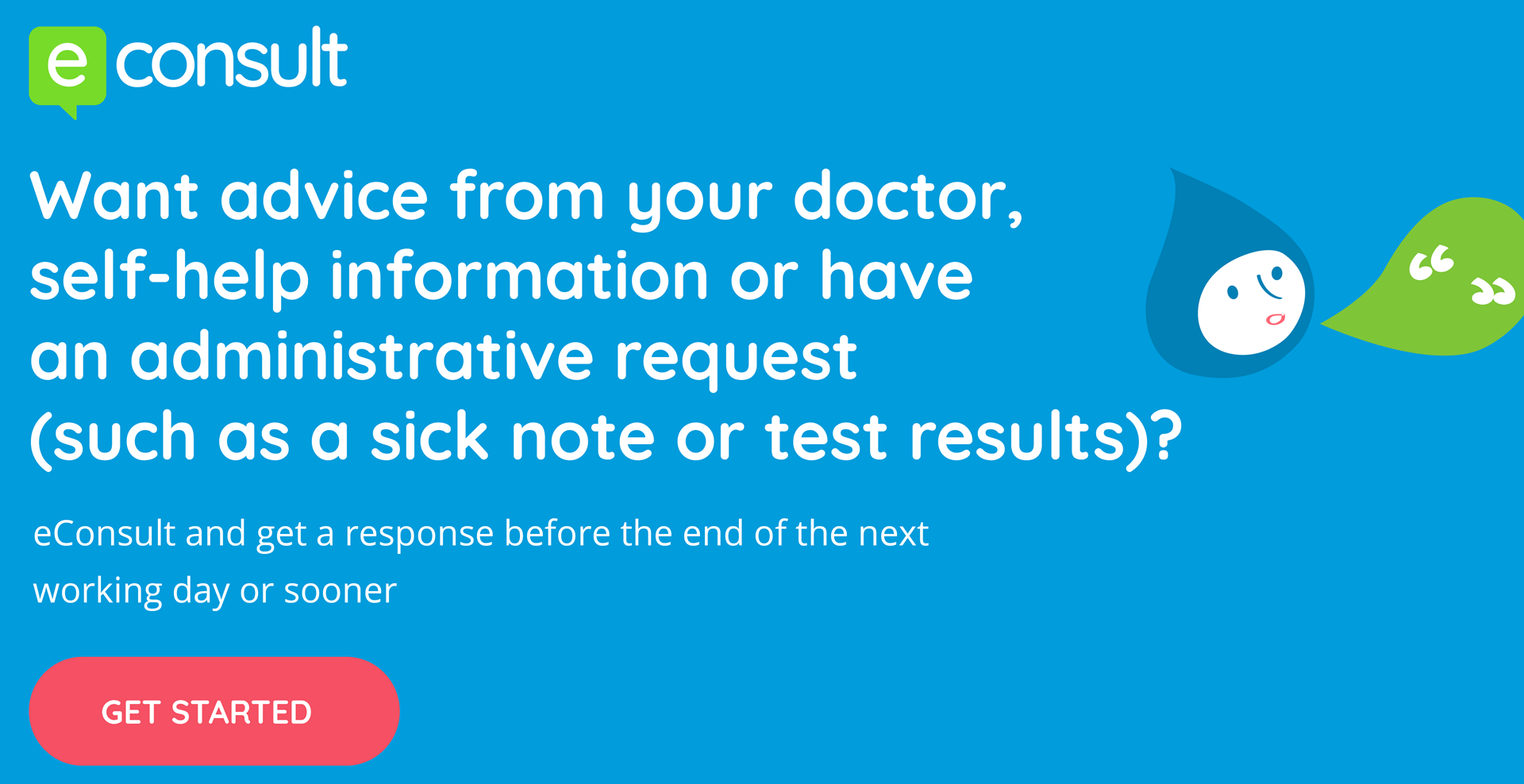 e-Consult
e-consult allows patients to safely contact their GP surgery anytime without having to come into the practice. eConsult collects all the details your GP surgery needs to decide on the right care for you and you will receive a response by the end of the next working day.
Please note e-consult will be unavailable from 5pm on Friday 30th April until 7.30am on Tuesday 4th May due to the Bank Holiday weekend. You will still be able to access the self help information.
For more information, please click here or go to our News tab to look at "frequently asked questions" on e-consult
Type 2 Diabetes
Type 2 Diabetes – Do you know your risk?
To mark Type 2 Diabetes Prevention Week, the Jurassic Coast Primary Care Network's Social Prescribing Team will be hosting an awareness event in Bucky Doo Square on Wednesday 12th May from 10.00 am – 4.00 pm
There will be a host of people from dieticians to health coaches to help you understand your risk and what you can do about it. They are also pleased to welcome a representative from Live Well, Take Control, a currently virtual programme specifically designed to help you cut your risk of developing the disease.
In addition to diabetes advice, they can give you lots of tips on how to get healthier and connect with your local community.
Pop down and see them Or contact the Social Prescribing Team on 01308 428943 to find out more.
Lyme Bay & Charmouth Medical Practice Merge
Merger of Charmouth Medical Practice and Lyme Bay Medical Practice 7 April 2021
Our formal application to merge was approved by NHS Dorset Clinical Commissioning Group, which allows us to work towards 7 April 2021 as our merger date. After this date we will become one single practice known as Lyme Bay Medical Practice offering services at Kent House, Lyme Regis, Lyme Regis Medical Centre and Charmouth Medical Practice.
You do not need to do anything as your registration and medical records will transfer automatically when the clinical systems merge on 7 April.
Please note the practice will be closed from 13:30 on 7 April until 8:00 on 8 April. There will be no access to eConsult and patients with on-line access accounts will be unable to log into the system during these times. If you have an urgent medical need after 1.30pm please call the 111 service who will be covering the practices during this period.
We look forward to working with you to sustain and improve primary care services.
Content
On this page you are able to find further information on the following:
COVID - 19 Vaccination Clinic News
e-Consult
NHS App
Latest News/Information
Opening Times
When We Are Closed
Meet The Team
Friends & Family Test
Join the Patient Participations Group
CQC Report
Link to Facebook
Lyme Bay Medical and Dental Practice
Lyme Bay is a friendly practice situated in the coastal town of Lyme Regis on Dorset's famous and beautiful Jurassic Coast. We offer both NHS Medical and Dental services across two sites close to the town and aim to provide traditional patient centred care to young and old alike.
Our premises at Lyme Regis Medical Centre & Kent House Health Centre offer parking and full disabled access including being sited on main bus routes. Our Practice is part of an integrated community team for the area which provides locally based intermediate care, community nursing, physiotherapy and occupational therapy. We also provide additional physical and mental health services in the form of consultant outpatient clinics and therapy and work closely with our colleagues in West Dorset to deliver as much care as close to home as is safely possible.
We work closely with our patient group and community and aspire to deliver holistic modern care at all times.
Latest News/Information
Please click on the links on the right for further information or latest news
Available:
Covid Vaccination Clinic 2021
Lymebay & Charmouth Medical Practice Merger 2021
Dental Update January 2021
Video Consultation Audit 2021
Telephone Consultation Audit 2021
e-Consult
e-Consult Feedback 2021
Friends and Family Test
Please click here to take the test